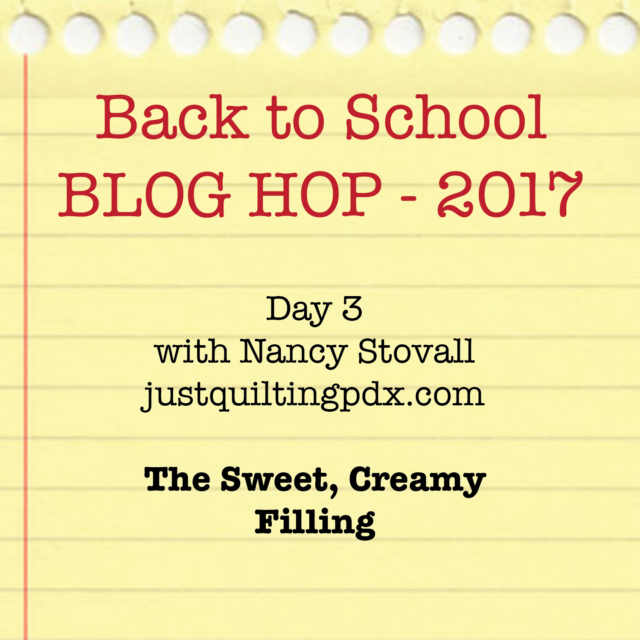 Welcome! Today is Day 3 of the Back to School Blog Hop, and I'm here to add my 2 cents to the conversation about quilt batting choices.
I'm a longarm quilter, so I work with all kinds of batting all the time. But it seems that while there's information "out there" about quilt batting, we don't talk about it that much. Anyone who knows me will testify that I can talk about quilting forever, so let's talk about batting choices–what choices we have and why to choose any particular one.
It's the yummy filling, right? These days there are lots of options both in stores and online, so how do you choose? Let's start with comparing a trio of common quilt batts, 100% cotton, 100%wool, and 80%cotton/20%wool blend.
My Two Cents.  When I select a batting I think about two things: Loft and Weight.
Loft. How "pouffy" do you like your quilt? Cotton is a traditional quilt batting, its low loft tends to give you a flat quilt. I have friends who loooooove cotton batting and won't use anything else. It gets very soft over time and washes, and has that irresistible "grandma's quilt" feel.  Wool is a higher loft batting and can be quilted heavily without any loss of flexibility. If you've ever petted a lamb, you've felt the natural crimp of wool. That crimp will reach out and cuddle you if you're even near it. As you might expect, the 80/20Blend is a mid-loft batting. You can quilt it more densely than 100% cotton, and the 20% wool gives it a lovely drape. If you're wanting to branch out from 100% cotton, dip your toes in here.
Here's pictures of samples that I've quilted up to show cotton, 80/20 blend, and wool batting using the same cotton fabric and quilting motif. These samples have all been washed and dried.
Weight. For most quilts, weight isn't that much of a consideration. But some of us like a heavy weight on us while we sleep, and some quilts are large enough that just making the bed becomes an aerobic workout.  Cotton is, in fact, the heaviest of the three batts we're considering, even though it is the flattest. Wool is (surprise!) the lightest of these three batts, making it a good choice for large quilts. The 80/20Blend batting is a good compromise between the two weights; especially good in quilts for college dorms, young children and babies.
Cost. In my experience, there's not a big difference in the cost of these batts. I carry all three of these batts in my studio; the wool batting is only a few dollars more than either the cotton or the blend.
My fave. I always use wool in my quilts, for the loft, weight and drape. Wool batting doesn't have a memory, so it won't hold a crease, which makes it a favorite choice for traveling or stored quilts, AND it can be quilted to within an inch of it's life without becoming stiff. It's warm in the winter and cool in the summer, good for all climates. Hand quilters will love how easily they can slide the needle in and out of a wool batting. But this is my preference–it might not be yours.
What else is out there? Silk, bamboo, polyester, and even recycled batts are available. Silk and bamboo have a softer, more fluid drape than cotton and wool, though silk has a loft more like the 80/20Blend while bamboo's loft is closer to cotton. Poly batts range from low loft to ultra-high loft, check the package for details. Recycled batts tend to be soft and have a low loft. Some are even a pale green color, so check your quilt fabrics for color bleed just to be sure.
And here's sample of silk and bamboo batting, also using the same cotton fabric and quilting motif, both washed and dried.
More is More? There have been lots of times when I've used more than one batting in a single quilt. Whaaaa??? Yep, show quilts often have a cotton batt next to the backing and a wool batt on top of that. The cotton will provide a stable base for hanging, while the wool enhances the piecing and quilting. Art quilts often have more than one batting or batting types to give stability and shape as desired by the artist.
Care. These days most quality batts can be machine washed and dried. If you're not sure, check the packaging. I've successfully washed and dried cotton, wool, 80/20blend, bamboo, and silk without any issues, though I will say that I use a low temperature-water in the wash and avoid the highest temperature in the dryer.
Your batting choice depends on your preferences–who's the lucky recipient, how big is the quilt–what's your favorite quilt "look"? I hope this introduction to batting choices gives you something to think–and talk–about. If you have any questions or thoughts about batting, please leave me a note. Let's keep the conversation going!
Follow along, there's more great tips in the days to come!
Thanks for reading my post! Check out the upcoming posts in the Back to School Blog Hop (and share them with your friends).
Day 1 – August 15 – Sam Hunter: How to spray baste a BIG quilt – www.huntersdesignstudio.com
Day 2 – August 16 – Mandy Leins: Thread Dread: removing stray bits after quilting – www.mandalei.com
(you are here) Day 3 – August 17 – Nancy Stovall: The Sweet Creamy Filling – www.justquiltingpdx.com
Day 4 – August 18 – Ebony Love: 7 Indispensible feet for your sewing machine – www.LoveBugStudios.com
Day 5 – August 19 – Michelle Freedman: Machine throat plates – www.designcamppdx.blogspot.com
Day 6 – August 20 – Teresa Coates: Edge/Under/Top stitching – www.crinkledreams.com
Day 7 – August 21 – Kelly Cole: Ten ways to regain your sew-jo – www.vintagefabricstudio.com
Day 8 – August 22 – Megan Dougherty: Choose to Fuse: tips for working with fusibles for applique – www.thebitchystitcher.com
Day 9 – August 23 – Kim Lapacek: Tricks to being productive while hauling your kids around – www.persimondreams.blogspot.com
Day 10 – August 24 – Yvonne Fuchs: Circuitboard quilting on Domestic and Longarm Machines – www.quiltingjetgirl.com
Day 11 – August 25 – Sandi Hazlewood: Chain Piecing Quilt Blocks Tips – www.craftyplanner.com
Day 12 – August 26 – Juliet van der Heijden: Paper-piecing with children – www.thetartankiwi.com
Day 13 – August 27 – Maddie Kertay: Fabric folding for any storage solution – www.badassquilterssociety.com
Day 14 – August 28 – Cath Hall: Working with Lawn fabric – www.wombatquilts.com
Day 15 – August 29 – Tracy Mooney: Tips for the perfect seam – www.sewmuchcosplay.com
Day 16 – August 30 – Teri Lucas: How to bury thread – www.terificreations.com
Day 17 – August 31 – Debby Brown: Securing machine quilting knots – www. higheredhands.blogspot.com
Day 18 – September 1 – Flaun Cline: How to put some sparkle in your fabric pull (part 1) – www.ipleadquilty.com
Day 19 – September 2 – Jessica Darling: How to put some sparkle in your fabric pull (part 2) – www.jessicakdarling.com
Day 20 – September 3 – Trish Frankland: A bigger blade really IS better?! – www.persimondreams.blogspot.com
Day 21 – September 4 – Lynn Krawczyk: Build a simple design with hand stitching – www.smudgeddesignstudio.com
Day 22 – September 5 – Jane Davidson: How to make scrappy HSTs – www.quiltjane.com
Day 23 – September 6 – Linda Pearl: Low cost tips for organizing your sewing room – www.onequiltingcircle.com
Day 24 – September 7 – Christa Watson – Top 10 tips for quilting on a domestic machine – www.christaquilts.com
Day 25 – September 8 – Sarah Nunes: To Starch or Not to Starch – www.berrybarndesigns.com
Day 26 – September 9 – Suzy Webster: Testing fabric for bleeding – www.websterquilt.blogspot.com
Day 27 – September 10 – Sarah Goer: Machine bind your quilts like a pro – www.sarahgoerquilts.com
Day 28 – September 11 – Vanda Chittenden: Beginner paper-piecing tips – www.chittenden.co.za
Day 29 – September 12 – Cheryl Sleboda: Needle threading tips – www.muppin.com
Day 30 – September 13 – Kim Niedzwiecki – Different thread weights and when to use them – www.gogokim.com
Day 31 – September 14 – Sandra Healy: Conquer Your Fear of Machine Appliqué – www.sandrahealydesigns.com
Day 32 – September 15 – Sandra Starley: The Basics of Antique Quilt Collecting – www.utahquiltappraiser.blogspot.com