every year the Gleneden Beach THURSDAYS group creates a one-of-a-kind themed quilt.
everyone contributes a block and the top is assembled, sashed, bordered and bundled up to the Just Quilting studio for quilting.
every year they just keep getting better and better.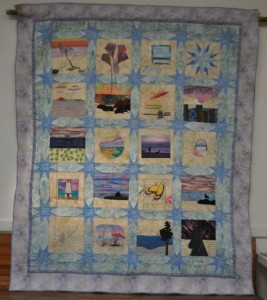 this year's theme is "Twilight On The Beach"– 20 blocks including a hand-embroidered sunset, kites with ribbon tails, origami seals and seagulls, a lighthouse, flip flops, footprints on the sand and more–all evocative of the seashore just as the sun slips under the horizon. All sashed with soft blue pastels and 8-point stars, bordered with a hazy lavender pastel.
proceeds fund scholarships for Taft High School students, tickets are $1 each or six for $5. winning ticket will be drawn on July 4 in Gleneden Beach, after the parade. you need not be present to win, but 4th of July at the Oregon coast? why not!
close up of some of the quilt's blocks: